eNow has taken a creative and leading role in adapting electric power to commercial trucks by becoming the first alt fuel company to market a zero-emissions power system for a Transport Refrigeration Unit (TRU).
The electric TRU, dubbed Rayfrigeration, replaces a small diesel engine that's commonly used to power a TRU. Batteries charged by a roof-mounted solar panel are used in place of the engine.
"The Rayfrigeration product is an important step forward in reducing emissions while maintaining the highest levels of efficiency and customer satisfaction for companies delivering perishable goods," said Jeff Flath, president and CEO of eNow. "eNow's solar technology is powerful, reliable, and efficient, and more than up to the task of providing emissions-free energy for critical tasks such refrigeration of fresh foods, even the most challenging conditions. We are proud to be a part of this important project."
Following five months of testing, eNow reports impressive reductions in emissions: a 98 percent drop in nitrous oxide, an 86 percent decline in carbon dioxide, and a 97 percent drop in particulate matter. During that time, battery life remained impressive.
"In actual operation, during the 5-month event, we have not reached any time limits for TRU operation," said Bob Doane, vice-president of technology for eNow. "The average daily run time at this point is 7.7 hours a day, and the solar system still has plenty of capacity at the end of the day. We will continue to test the system in the coming months."
Overall system weight and payload capacity are similar to a truck with a conventional system, Doane said. Fuel mileage has also been on par with a conventional truck.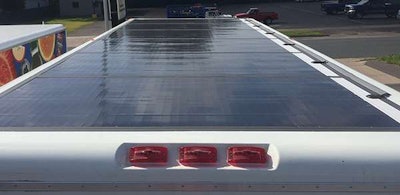 The Rayfrigeration TRU is the first-to-market battery powered unit for commercial use and was tested on a Challenge Dairy Class 7 truck delivering fresh dairy products throughout Fresno, Calif.
In addition to virtually eliminating conventional TRU emissions, the Rayfrigeration unit is projected to reduce operations and maintenance costs by up to 90 percent over a diesel-powered TRU.
Cost savings are achieved through the elimination of diesel fuel, the elimination of maintenance costs for the diesel APU engine, and an increase in battery life (reducing replacement costs) which eNow says is owed to consistent charge maintenance by its 1800 Watt solar panel.
Designed to support medium-temperature refrigeration applications, the Rayfrigeration system employs two forms of energy storage: eutectic medium (cold plates) and a high-capacity auxiliary battery system. The cold plates and auxiliary batteries are initially charged from utility power delivered to the vehicle when plugged in overnight.
When the truck is operated on a delivery route, power is provided by eNow's solar photovoltaic (PV) panels mounted on the truck's roof. eNow joined Johnson Refrigerated Truck Bodies, Emerson Climate Technologies, and Challenge Dairy Products, Inc. in the summer-long trial that took place in California's San Joaquin Valley.
The eNow team calculated that average emissions of CO2 over a four-day week with an average delivery day of 7.7 hours was reduced from 2,525 lbs. a week to 159 lbs. Nitrous oxide emissions were reduced from 7162 grams to 1. This is after adjusting for the emissions from the power plant supplying grid electricity that was used overnight. Emissions from solar are zero.
The Rayfrigeration solar-charging technology is now available through eNow, which currently has more than 4,000 solar systems operating nationwide on Class 8 trucks, buses, emergency and utility vehicles, supporting applications as diverse as heating and cooling, liftgates, wheelchair lifts, safety lights, telematics, and other transportation applications. Upon completion of its testing period, Challenge Dairy plans to transition its entire fleet of distribution trucks to solar-powered TRUs.
During an event held October 11—officially declared "Rayfrigeration Day" in the City of Fresno, California—eNow joined Johnson Refrigerated Truck Bodies, Emerson Climate Technologies, Challenge Dairy, and government agencies to celebrate the ongoing successful demonstration of California's first zero-emissions TRU.
The San Joaquin Valley Air Pollution Control District and EPA District 9 funded part of the Rayfrigeration initiative through the Technology Advancement Program that encourages innovation through the development of new emission reduction technologies.