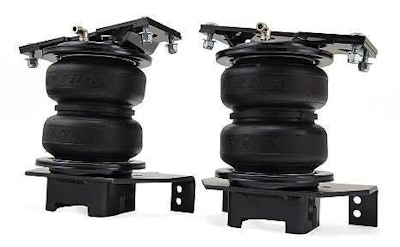 Air Lift has launched new LoadLifter 5000 suspension kits for 2017 Ford Super Duty trucks.
"Ford's 2017 Super Duty is the toughest, smartest and most capable pickup on the market, and aftermarket air suspension specialist Air Lift Company matches that quality by offering the most reliable load support systems," Air Lift reports in its press release.
Air Lift's heavy-duty LoadLifter 5000 and LoadLifter 5000 Ultimate air spring series are available for Ford's 2017 F-250 and F-350 Super Duty two-wheel-drive pickups.
The new LoadLifter 5000 Ultimate (#88391) for the Super Duty line offers all the benefits of the LoadLifter 5000 but with the addition of an exclusive internal jounce bumper, which provides added shock absorption and prevents bottoming out.
The LoadLifter series works with the vehicle's existing suspension to deliver up to 5,000 pounds of load-leveling capacity and is air adjustable to keep vehicles stable, level and comfortable whether loaded or unloaded. Each kit includes exclusive Air Lift roll plates, which protect the air springs from sharp edges and increase load capacity up to 10 percent.
The LoadLifter 5000 and LoadLifter 5000 Ultimate kits require no drilling into the frame and can be installed in only a few hours. For convenient inflation and deflation of the air springs, Air Lift offers wired, wireless and automatic on-board air compressor systems at https://www.airliftcompany.com/products/compressor-systems/.
All Air Lift products are backed by an industry-exclusive lifetime warranty which covers the entire contents of the air spring kit, and the company also ensures satisfaction with a 60-day money back guarantee on load support air springs and on-board compressor systems.