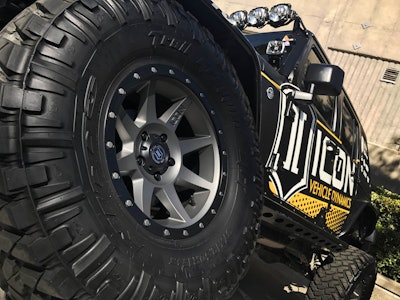 ICON announced today the arrival of its latest wheel design, Rebound.
"Combining sharp lines, a concave spoke design, and ICON-optimized dimensions, this new wheel is designed not only to improve the looks of your Jeep, truck, or SUV, but the overall function of the vehicle as well," ICON announced in its press release.
Rebound is available in satin black, bronze, and titanium finishes with color-matched rock ring bolts.
Staying true to the ICON Alloys approach, the 17-inch Rebound has been engineered to maximize caliper clearance and optimize wheel position for un-hindered suspension travel and steering function. Backspace and wheel offset dimensions have been strategically developed to reduce scrub radius, improving all-around handling and ride quality.
The ICON Alloys Rebound has also been strength tested to yield a 2,750-lb load rating, making it its strongest wheel to date.
"With build features such as these, it's clear that a set of ICON Alloys Rebound wheels is the perfect complement to an ICON Vehicle Dynamics suspension system," ICON reports.