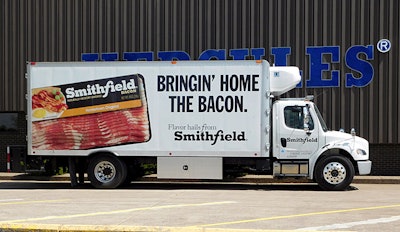 Smithfield Foods announced today that its truck drivers have had far fewer accidents thanks to a video-based safety program.
After participating in a year-long pilot comparing two safety systems, Smithfield realized its greatest decline in preventable accidents through the SmartDrive safety program.
"The SmartDrive results were overwhelmingly positive," said James Michael, senior operations manager at Smithfield Foods. "Soon after deploying the SmartDrive program, we went from 20 preventable accidents on the roadway where we lost two trucks to accidents, to only eight preventable accidents and no truck losses during the same time period the following year. In addition, the online dashboard, coaching workflow and client support convinced us that the SmartDrive program would be the most beneficial solution for our fleet."
Smithfield has now deployed the SmartDrive video-based safety program across its entire fleet of nearly 600 Armour and Eckrich branded refrigerated box trucks.
The SmartDrive system installed in Smithfield's trucks includes both cab-facing and road-facing event recorders, which are designed to provide evidence of risk factors that occur both behind the wheel and from other motorists on the road. Michael explained that being able to see what drivers were doing during risky maneuvers and having the ability to coach them on needed skills has already yielded positive results for the fleet.
"We have 40 branches across the country—both union and non-union facilities," explained Michael. "We engaged our drivers in a conversation so they understood the program and how it works. Once it was clear to them that video is only recorded if a risky maneuver or external G-force is detected, many drivers made a personal commitment to avoid causing a trigger by driving safely each and every time they hit the road. The results speak for themselves."
SmartDrive CEO Steve Mitgang said video-based safety programs help fleets to mitigate risk.
"Like many companies that are dedicated to the highest safety standards, Smithfield realized video-based safety is the only way to have full visibility into risk when drivers are on the road," Mitgang said. "The SmartDrive program not only shows fleet managers exactly where their risk lies, but also how to address it to prevent collisions before they happen."
Michael said the benefits of a video-based safety program far outweigh any concerns of potential liability.
"Some companies are worried about having a video-based system due to liability issues in case a driver actually is at fault in an incident," concluded Michael. "However, the benefits—including being able to exonerate drivers when not at fault and being able to prevent accidents—far outweigh the risks. As a private fleet, we want to ensure our brand is synonymous with safety. Leveraging the SmartDrive video-based platform is a key tool for us to protect our drivers, the motoring public and our reputation."