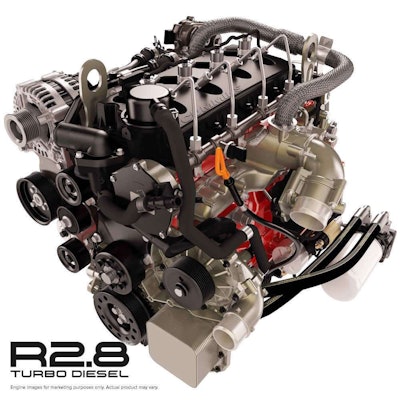 Got an old small to mid-sized pickup that needs new life?
You may want to consider Cummins R2.8 Turbo Diesel, the first in a series from the Cummins Repower program, which is now available directly to consumers through www.cumminsrepower.com.
"It's been nearly a year since we first announced the crate engine program, Cummins Repower, and the response and anticipation from the Enthusiasts has been overwhelming," said Steve Sanders, program leader at Cummins Repower. "Our team has performed extensive work to ensure this product meets the tremendous expectations of our customers. We are excited to finally bring more high quality Cummins power and dependability to a new group of consumers."
The turbocharged 2.8-liter, 4-cylinder engine is parented from a global platform which is currently used in small pickups, chassis cabs, SUVs, vans, commercial vehicles and industrial equipment around the world, but has been tailored specifically for the North American automotive aftermarket.
"The proven platform is an efficient and clean alternative that brings new power to vehicles with older, dirtier engines beyond their useful life," Cummins states in a press release.
At Expo West in May, Cummins brought along a 2000 Jeep Wrangler that had been given new life with an R2.8. In the video below, Cummins tells Overland Bound that the engine was EPA rated at 31mpg highway and 25 city.
The R2.8 is rated at 161 horsepower and 267 lb.-ft. of torque. It's emissions compliant up to model year 1999 for gas to diesel swaps, according to Sanders.
The R2.8 Turbo Diesel kit includes many of the accessories that are vital to installation from the complete front-end accessory drive all the way to the throttle pedal and dashboard display with all of the wiring needed in between. Kitting for the engines takes place in historic "Plant 1" in Columbus, Indiana.
MSRP for the R2.8 Turbo Diesel kits is $8,999 with the first shipments expected as soon as mid-October.