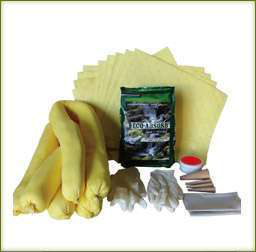 Eco-Absorbent compiled its Large Truck Kit spill response package for the transportation industry, from one-truck owner-operators to large fleets.
The kit contains U.S. Department of Transportation-required plugs and putty to temporarily plug fuel tank punctures, along with other items needed to address unexpected fluid spills.
Designed as a "green" spill response package, the Large Truck Kit includes one bag of Eco-Absorb, 10 hazmat absorbent pads, three hazmat absorbent socks, one large and three small wooden plugs, a 10-ounce container of putty, two pairs of Latex gloves and a disposal bag. For more information, visit eco-absorb.com.