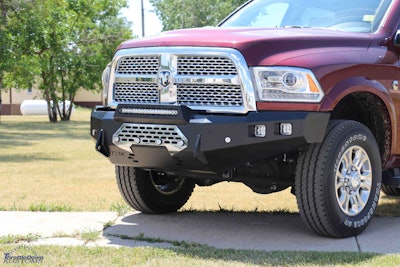 The new Cyclone series bumper from Throttle Down Kustoms offers a fresh take on steel bumper design, with an integrated air vent and a mount for a single row 20-inch LED light bar.
Available for Chevy, Ford, GMC, Ram, and Toyota trucks, the new Cyclone bumper series offers a wide variety of custom design and finish options.
Like all steel bumpers from Throttle Down Kustoms, the new Cyclone bumper is an exact fit replacement for the OEM bumper, is hand-welded in the U.S., and comes with a lifetime warranty.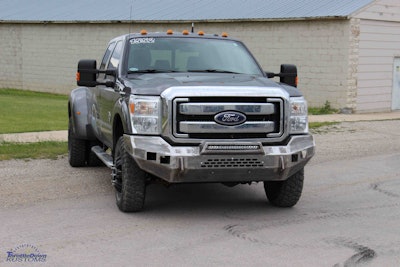 "Although all of our handcrafted bumpers offer light cutout options, this is the first one we've built with an integrated LED light bar mount," says Jeremy Pulse, owner of Throttle Down Kustoms. "The Cyclone's 20-inch light bar mount makes a lighting upgrade easy, as do available cutouts for either factory or aftermarket fog lights."
In addition to the LED light mount, the Cyclone has a center vent that offers even more customization. The Throttle Down Kustoms team can powder coat the vent area in a different color, powder coat the entire bumper, or ship the bumper with a raw steel finish. As with all of TDK's bumpers, the Cyclone utilizes solid PNO steel plate that is laser cut to precise dimensions, and then is MIG welded by hand at the TDK facility in Montana.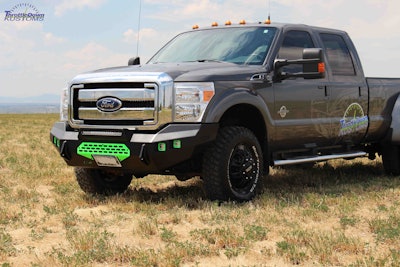 "We're a dedicated team of certified auto and welding professionals who understand what it is to own a hard-working truck," Pulse says. "All design, building, and testing is done right here in Montana, so we're confident in the quality of our work."
All Throttle Down Kustoms bumpers:
Offer no-weld mounting
Are available with either a paintable bare metal finish or a tough powder coat finish
Include a set of ¾-inch Clevis mounts with 7/8-inch holes that are ready for severe duty
Accommodate factory parking sensors, with OEM-style fasteners that make installation easy
Are proudly made in the U.S.
Lifetime warranty
The Cyclone is the seventh bumper series in Throttle Down Kustoms' product line. Learn more about Throttle Down Kustoms and their bumpers at throttledownkustoms.com.