Luverne Truck Equipment has launched a new heavy-duty replacement truck bumper which it says is one of the strongest replacement bumpers on the market.
The Journeyman HD This is built in the U.S. from 10-guage steel and schedule 40 pipe, welded together with a 2- x 2-inch receiver tube.
"The standard 2-inch receiver tube has been tested at our Detroit engineering facility to ensure safety and a dependable straight-line pull rating of 30,000 lbs.," Luverne's press release states. "With the right tow hook, ball mount or other hitch-mounted accessory installed, the Journeyman makes any big truck ready to tackle big jobs."
Luverne reports that the Journeyman features an industry-leading dual-layer finish. The bottom layer is a rust-resistant zinc primer to protect the steel frame. The top layer is a textured black powder coat that's designed to maximize rust protection and resist scratching and chipping. The Journeyman is also equipped with protective rubber facings on the vertical uprights. Good luck finding that feature elsewhere!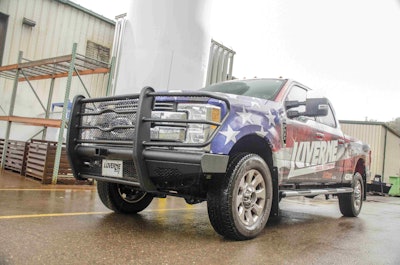 The Journeyman features a punched steel screen and the Luverne signature logo reveal. The steel screen keeps sticks, stones and other road debris out of the truck's grille, and it can be removed on certain models, if necessary, to avoid interference with forward-facing cameras or sensors. The signature vehicle logo reveal adds even more protection for the grille and shows off the vehicle's emblem.
All Journeyman HD replacement bumpers are made in the U.S. with a vehicle-specific design for no drilling necessary. They are currently available for the Ford Super Duty F250, F350, F450 and F550 with more vehicle applications coming soon. Luverne also offers a two-pack version to reduce shipping costs and keep prices lower for their dealers and customers.
Luverne, based in Eu Claire, Wisc., has been manufacturing truck, commercial van and SUV accessories since 1963.