Larson Electronics announced the release of a new no-drill mounting plate designed to support any light with a permanent mounting base on 2017-up Ford F-250 through F-550 Super Duty aluminum body trucks.
Each one of these no-drill mounting plates is built from powder coated aluminum and features a 6-inch by 8-inch permanent mounting surface for cameras, spotlights, strobes, beacons, hunting spotlights, signal lights, security lights and warning lights.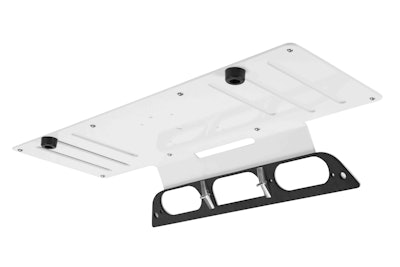 The no-drill mounting plate is available in black, white or gray. It's installed via the rear cab and features a weatherproof seal.
"We've designed these mounting plates to be sturdy yet easy on vehicles," said Rob Bresnahan, CEO of Larson Electronics. "One of the best qualities about these permanent no-drill mounting plates is that they have been designed to handle the stress and damage caused from drilling holes in order to mount your equipment. This helps to prevent unnecessary damage to your Ford F-250 to F-550 Super Duty trucks."