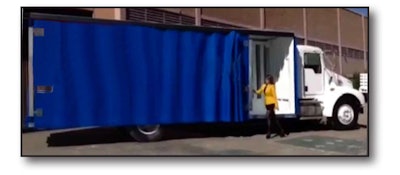 There are times when accessing cargo from the side of a box truck—much like a beverage truck—makes perfect sense.
The design team at Kinedyne realizes, however, that roll-up aluminum doors are not always ideal given their additional weight, the additional time required to raise and lower the doors, the cargo space lost to the doors when they're rolled up inside the truck and operator fatigue from handling doors repeatedly throughout the day.
Conversely, existing curtain-side systems have had problems with single-point latching, moisture intrusion, mechanical failure, graphic fading and fungal growth.
To address those challenges, Kinedyne introduced two new curtain-side cargo solutions: the Kin-Sider and the Kin-Slider. (Demonstration videos are posted below.)
The Kin-Sider replaces traditional curtain-side systems commonly used on 18-wheelers or other trucks where side cargo access is needed, but not required repeatedly throughout the day. Several fasteners secure the curtain side to the bed.
For jobs that require frequent cargo access daily, like a beverage truck for example, the Kin-Slider features a uniquely designed latching approach that enables the curtain to slide open and close within seconds.
In designing its new Kin-Sider and Kin-Slider systems, Kinedyne focused on addressing weaknesses that have often plagued existing curtain-side systems. Both of its systems are made with high-strength aluminum, cast bronze, high-quality rubber seals and curtain rollers are made with rugged N6 nylon covers over sealed bearings. When closed, the Kin-Sider and Kin-Slider systems are hermetically sealed.
"Everything from our moisture seals to our closure mechanisms to our curtain roller design and graphic integrity protection system has been carefully designed for optimal performance and longevity," said Paul Wolford, Kinedyne's vice president of sales and marketing. "And when it comes to sheer efficiency of operation, the speed of the Kin-Slider is a game-changing technology that is going to impress management and drivers alike."
The Kin-Slider opens and closes at both ends of the trailer, and cargo can be fully accessed and the curtain closed again within a matter of moments. The system has a unique full-length, vertical, multi-latch closure system with an adjacent, all-in-one latch release mechanism located both forward and aft which reduces the number of locks from up to 14 down to just four.
Kin-Slider weighs up to 1,000 pounds less than a roll-up system and uses up to 111 cubic feet less space. For a 28-foot truck, that amounts up to a 15 percent increase in payload.
"We recently presented our Kin-Slider product to a fleet with curtain-side vehicles that open and close as many as 50 times a day," Wolford said. "You don't have to be a mathematician to understand that our Kin-Slider technology will translate into several hours in time savings for each of their vehicles, and that has the potential to save them significant dollars."
Closures for the Kin-Sider include web assemblies with easy-to-operate over-center buckle and hook fasteners that are located at the bottom of vertical reinforcements and are augmented with double screws and bolt plates.
Optional graphics on the Kin-Sider and Kin-Slider systems are a result of exclusive materials, advanced processes and proprietary finishes. Kinedyne starts with a high-tenacity, flame-retardant, PVC-laminated polyester substrate that it says is 10 percent thicker than competing tarp materials and has an operating temperature rating of between 158 degrees Fahrenheit and -22 degrees Fahrenheit.
Kinedyne can apply graphics to the base curtain material using sophisticated digital printing technology capable of achieving resolutions of 360 dots per square inch, the equivalent of a high-quality print magazine. The printed curtain wall is then covered with an anti-graffiti coating, which also protects against UV rays and fungal growth.
Kinedyne reports that its multipurpose coating is so effective and resistant to foreign agents that materials such as spray paint can be removed with just water within 24 hours. After 24 hours, graffiti and the like can be removed from the curtain side using alcohol or petroleum distillates, and the process can be repeated up to 400 times with no visible impact on graphic appearance.
The systems are designed for easy maintenance and can be cleaned at any standard commercial truck wash.