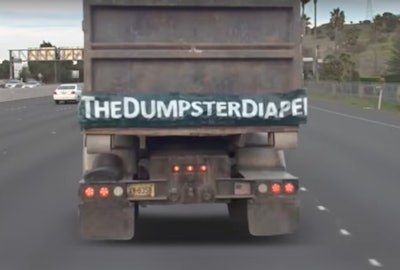 You've heard it said that necessity is the mother of all invention, and that's definitely the case for Kevin Goldstein, owner of Devon Demo in Patterson, N.J.
Goldstein was getting tired of complaints—and even worse—paying for damages done by small aggregate that slipped through the gap on his dump trucks' tailgates and chipped windshields and paint off the vehicles following behind.
Brainstorming led Goldstein to develop The Dumpster Diaper, a magnetized cover made from durable material that covers that narrow gap just below the truck's tailgate.
"After several design modifications and prototypes, the first Beta version of the safety system known as The Dumpster Diaper was ready for testing on our own fleet of haulers," Goldstein's website, thedumpsterdiaper.com states.
"Within the first six months of testing, it became evident that the complaint calls from drivers stopped coming in. The results were an inarguable success. It didn't take long for other haulers to notice the strange looking tarp wrapped around our tailgates and they started asking where we acquired it and where they could get one for themselves."
Goldstein patented the diaper and now offers it for sale at thedumpsterdiaper.com. Feedback has been positive.
"I would recommend this product to truck owners," writes Russell Tussleman. "Easy to install. Haven't had a problem in over a year with road damage."