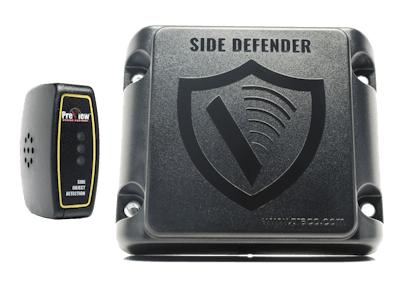 Preco's PreView Side Defender is an advanced object detection radar system that takes the guesswork out of managing a truck's blindspot.
The Side Defender actively warns drivers with audible and visual alerts, allowing them to take appropriate actions to avoid collisions.
Additionally, it has the ability to integrate with telematics applications, vehicle control systems, vision systems or other sensors using industry standard communications.
Industry standard CAN bus integration allows PreView Side Defender to read the vehicle's speed messages. Through this integration, the radar can operate intelligently in different detection modes:
Highway Mode: The system alerts operators of vehicles in the side blind zones while ignoring stationary objects such as guardrails to reduce nuisance alerts.
Slow-Speed Mode: PreView Side Defender is positioned to play an integral role in the emerging side turn assist applications, aimed specifically at reducing the incidence of collisions with pedestrians and cyclists in urban environments.
The Side Defender has been developed specifically for the over-the-road (OTR) markets including trucking, municipalities, waste and recycling.
Specifications
Frequency: 24Ghz
Detection range (fore/aft): 20'/6M forward and 20'/6M back/aft
Detection width: 10'/3M to 8M)
Current Draw: Less than .25 AMP
Operating Temp: -40 F/ +185 F (-40 C to +85 C)
Sensor Dimensions: 4.9"H x 4.06"W x 1.28"D
Display Dimensions: 1.0"H x 2.3"W x 2.0"D
Built to meet rugged J1455 Specs
Utilizes standard CAN communication protocols (J1939, ISO 11898)