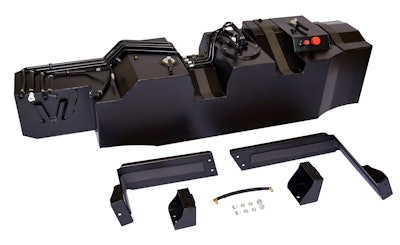 Transfer Flow announced the release of the largest aftermarket fuel tank for 2017 Ford F-250, F-350 and F-450 Super Duty short bed, crew cab diesel trucks.
The 60-gallon hot-dipped aluminum alloy steel tank nearly doubles OEM fuel capacity.
Transfer Flow reports that 12-guage aluminized steel gives their tank superior strength and corrosion resistance.
The unique design features exterior fuel lines and a relocated water separator to make the most of the available chassis space.
As with all Transfer Flow replacement fuel tanks, this system comes complete with a full installation kit to get the heavy-duty tank mounted and ready for the road.
"Our goal when engineering the new 60-gallon replacement tank was to increase the fuel capacity as much as possible while maintaining the durability and integrity of the truck," said Todd LaPant, director of engineering.
"The 2017 Ford Super Duty is an elite truck that is unbelievably capable, so it will easily be the truck of choice for many who are towing fifth wheels and those needing to get into the backcountry. We've designed a replacement tank that extends both the luxury and brute strength of the vehicle even further."
Pre-order today using promo code 17FORD60 to save $230 with introductory pricing of $1,349.45 and be ready to hit the pavement in May.
To pre-order the 60-gallon replacement tank or for more information about Transfer Flow's fuel tank systems, call the customer service team at (530) 893-5209 or visit Transfer Flow online at www.transferflow.com.