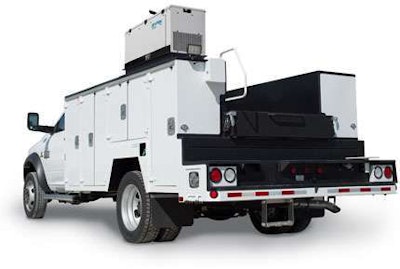 EnPak's new no-idle A28GBW power system is designed to save fuel and reduce vehicle weight while providing compressed air, electrical power and welding capabilities.
Compared to a work truck with a PTO-driven air compressor and an engine-driven welder/generator, the EnPak A28 can cut weight by up to 550 pounds and increase payload. A small, fuel efficient engine on the A28 is used to drive the air compressor, generator and stick welder.
"Equipping a work truck with an EnPak A28 can decrease truck engine idling by up to 75 percent, reducing fuel costs and minimizing expensive engine repairs and maintenance," according to EnPak. "For a Tier-4 diesel work truck, that idling time reduction can save more than $50,000 over a 10-year period."
EnPak reports that the A28's industrial rotary-screw air compressor outperforms and outlasts reciprocating designs. It instantly delivers 28 cfm of continuous air output, even in cold weather.
The 5,500-watt generator delivers 120- and 240-volt power to run jobsite tools and lights and can operate truck-mounted electric-hydraulic cranes.
The A28 delivers up to 100 amps of DC power for 12- and 24-volt battery charging and up to 300 amps for crank assist. The stick welder is rated at 210 amps.
Operators can easily access the A28 from its simple, user-friendly remote panel. There's no need to climb into the truck bed, which saves time and reduces the risk of injury.
With industry-exclusive E-Choke technology, the A28 is designed to start easily in any weather. Its powerful engine allows simultaneous use of the air compressor with any other feature.