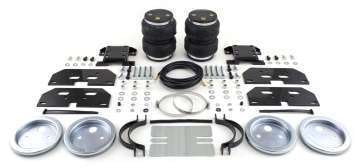 Air Lift will soon be offering two new load support solutions for 2003-2013 Ram 2500 and 2003-2017 Ram 3500 pickups.
The newly re-engineered LoadLifter 5000(tm) and LoadLifter 5000(tm) ULTIMATE kits work with the existing chassis of 3/4- and 1-ton pickups, improving ride quality and leveling the vehicle during heavy-duty towing.
These two air suspension kits eliminate squat, bottoming out and trailer sway, all of which can occur when handling heavy loads, allowing the driver to tow and haul with safety and comfort.
The kits include a new bracket design, air springs and all required assembly hardware. Air Lift air springs are fully adjustable to maintain ideal ride height and are engineered to ensure proper weight distribution between all four tires, improve braking and steering.
"LoadLifter air suspension systems are specifically designed for heavy-duty trucks," says Ryan Feyer, marketing manager for Air Lift's load support division. "They go far beyond the typical load support solution for a leaf sprung suspension, providing unlimited adjustability that just isn't available with other products."
Air Lift's LoadLifter 5000 kit (#57295 and #57297) features air springs and components with a bolt-on design and provides up to 5,000 pounds of load-leveling capacity.
The LoadLifter 5000 ULTIMATE kit (#88295 and #88297) provides even greater ride support for frequent heavy-duty use. The kit takes the benefits of the LoadLifter 5000 one step further with the addition of a shock-absorbing internal jounce bumper, which adds extra support to the application.
The increased support effectively eliminates the jarring impact of rough roads. Whether the vehicle is loaded or unloaded, the maintenance-free ULTIMATE kit fully adjusts for a safe and comfortable ride.
Both kits are easy to install and are backed by Air Lift's exclusive lifetime warranty on the entire contents of the kit (air springs, brackets, fittings and mounting hardware), along with a 60-day, money-back, satisfaction guarantee. For convenient adjustment of the air springs, from inside or outside the vehicle, Air Lift offers automatic, wired and wireless on-board air compressor systems.