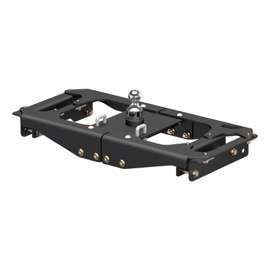 Curt Manufacturing announced that it's designed a new gooseneck hitch specifically for Ford Super Duty trucks that speeds up installation time.
"This OEM-style hitch is a highly valuable asset for Curt dealers and consumers alike, featuring a one-person installation, a 30K weight rating and a limited lifetime warranty, all wrapped up in a dependable, made-in-USA design," a Curt representative said.
Like its Double Lock EZr, the new OEM-style gooseneck hitch for Ford boasts a one-person installation (see video below). Curt expects the new design to be a game-changer for Curt dealers.
The hitch is built with fewer, more compact pieces, so they can be lifted and bolted into place by a single installer, without the help of a second person.
Curt's also eliminated a number of steps from the process to speed up installation time, including:
No need to lower the exhaust
No need to remove the truck bed
No welding required
No bed flange trimming required
No frame drilling required
The OEM-style gooseneck hitch offers a gross trailer weight capacity of 30,000 lbs. and a patented 2 5/16-inch latch-locking trailer ball.
The U.S. made hitch comes with a rust-resistant liquid Aquence coating and a limited lifetime warranty.