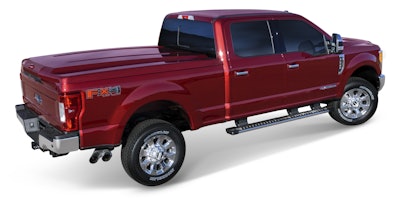 A.R.E. Accessories is now offering a complete lineup of fiberglass truck caps and tonneau covers for 2017 Ford Super Duty pickups.
A.R.E. caps and covers are made to fit all F-250, F-350, F-450 and dually models with all bed and cab configurations.
"Both products provide truck bed storage that will help contractors and outdoor enthusiasts keep valuable gear secure," an A.R.E. representative said.
The caps, which blend with OEM styling, are designed with durability in mind and stand up to daily on-the-job use and offer theft-resistant protection for tools and other cargo. The company has a variety of designs made of high-quality fiberglass that are built to withstand commercial work and demanding recreational activities.
A.R.E.'s premium commercial and consumer-minded truck caps are available in aluminum or fiberglass with a variety of add-on options, including various window configurations, lighting and organization accessories, to improve the utility of Ford's Super Duty trucks.
For a more streamlined style, fiberglass tonneau covers from A.R.E. Accessories provide a custom fit and sleek design that matches OEM body lines. The covers are available for commercial and consumer applications and open with the assist of supportive gas struts from the rear of the truck. With a reinforced roof and top-quality locks, A.R.E.'s top-of-the line tonneau covers maintain their premium styling and security for years.
"Our truck caps and tonneau covers match the extreme toughness of the 2017 Ford Super Duty," said Bryan Mutchler, marketing manager, A.R.E.  "The quality and utility of our products gives truck owners peace-of-mind that whether at work or play their valuables are protected."
All truck caps and tonneau covers from A.R.E. Accessories are manufactured to meet customer specifications and are painted to match exact OEM paint codes using a state-of-the-art factory painting system for a premium appearance.  A.R.E. backs its products with a limited lifetime warranty.
For more information about commercial fleet sales, contact A.R.E. at 400 Nave Rd. S.E., P.O. Box 1100, Massillon, OH 44648, email [email protected], call 330.232.1757 or visit www.4are.com/fleet. For consumer products, email [email protected], call 800-649-4ARE or visit www.4are.com. Through the website truck owners can find a local A.R.E. dealer with trained personnel that can assist in selecting the right truck cap or tonneau cover and with the necessary accessories. Each location is staffed with technicians certified to professionally install the products and provide after-sale service.