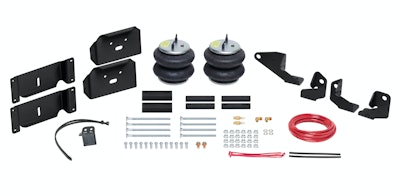 Firestone Industrial Products (FSIP) launched a new Ride-Rite Air Spring Kit for 2017 Ford F-250 and F-350 trucks.
The new kit, which is designed to level and stabilize loads while providing a smoother ride, is compatible with both 2 and 4 wheel drive models in both gas and diesel configurations, and will also work with fifth wheel hitches.
All Firestone Ride-Rite kits come with a no-drill inflation valve bracket to allow attachment to a hitch receiver. The kits allow the vehicle to be lifted by the frame, extending the suspension without fear of damaging the product due to its rolled crimp design. Benefits include proper ground clearance, steering control, braking and protection against premature tire wear.
"We know our customers demand the highest quality and performance from their trucks and everything they put on them, which is why we draw from our history in the heavy-duty trucking industry to offer air springs and accessories that will help them get the most out of their vehicles," said Mary Kay Bryja, division marketing manager, FSIP. "In-house control of design and production, from rubber raw material to finished product assembly, means tight quality and efficient processes."
FSIP proof tests all of its Ride-Rite air springs to 190 psi to ensure they can withstand the most rigorous operation and pressure spikes they could encounter through suspension travel.
Ride-Rite kits provide load support through the use of air pressure. They level off-center loads, decrease suspension fatigue, increase vehicle stability and reduce bottoming out. The kits require no drilling and use existing holes in the truck's frame for easy installation. Each kit includes two double convoluted style air springs, which help to maintain a smoother ride.