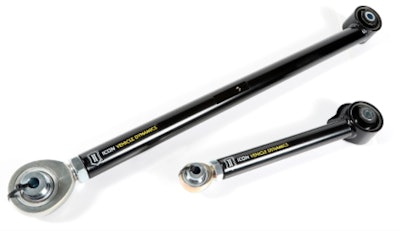 Icon Vehicle Dynamics is now offering tubular steel upper and lower rear link arm kits for the 2003-up Toyota 4Runner and 2007-2014 Toyota FJ Cruiser.
According to Icon, these tube links are intended as a replacement for weaker factory units and a low-cost alternative to the billet aluminum links currently in the Icon product lineup. Icon's tubular steel rear link arms are made from computer numerical controlled (CNC) machined and notched 1026 drawn over mandrel (DOM) steel and welded in-house, "providing a major improvement over the construction of the stock units," Icon reports.
The new rear link arm kits feature PTFE-lined FK rod ends for increased suspension articulation, reduced deflection, and link arm length adjustability. Both upper and lower link arm kits utilize a multi durometer bushing that allows for noise free operation and maximum angularity without the need for periodic greasing and/or other maintenance.
The rod ends and bushings featured in these link arms allow the vehicle's suspension to function as intended, without the bushing bind that limits the vehicle in stock form.
Icon's engineering team has also incorporated features such as a tangent lower link barrel design that allows for easier sliding over off-road obstacles, and the offset front pivots of the lower link improve roll steer geometry. After the design phase was completed Icon engineers put these parts through the "ICON1K" real-world test cycle for a final stamp of approval.
Icon products are all proudly made in the U.S. at its Southern California-based facility by a dedicated team of off-road enthusiasts.