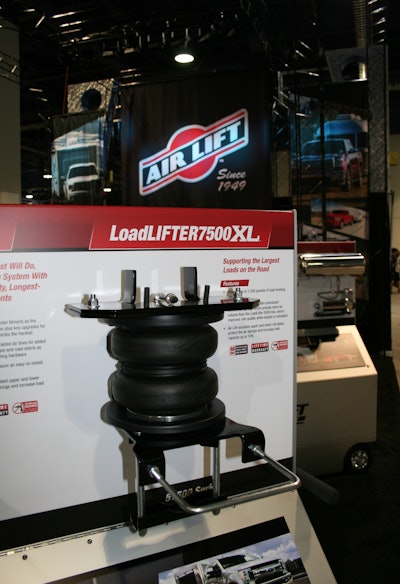 Air Lift's new LoadLifter 7500XL is designed to deliver an improved ride while taking on heavy loads.
The LoadLifter 7500XL provides up to 7,500 pounds of load-leveling capacity through 7-inch double-convoluted bellows air springs which provide more air volume than the LoadLifter 5000 line. The end result is improved ride quality while loaded or unloaded, Air Lift reports.
"Air Lift does it a little bit differently to reach that capacity than some of the other air springs in that we use a larger diameter bag," Paul Mueller, Air Lift's national sales manager, explained at SEMA last week. "Some companies actually design their high capacity bags using high pressure. We get there by using a large volume air spring. A pair of these bags will actually support 7,500 pounds of weight at lower pressures and ratings than most bags. And it also comes with our exclusive roll plates to give you 20 percent more capacity."
The 7500XL is air adjustable from 5 to 100 PSI. Upper and lower roll plates protect the air springs from abrasion and, as Mueller explained, increase load capacity. Most kits use the existing holes in the vehicle's frame for a bolt-on installation, so no drilling is required. End caps are made of a weight-saving, high-strength nylon composite.
"Air springs come with everything that you need in the kit. It comes with the brackets, the air line, the roll plates, the fittings, hardware—everything that you need to install the product," Mueller said. "You can air it up using the Schrader valve. For even easier adjustment, we recommend one of our control systems."