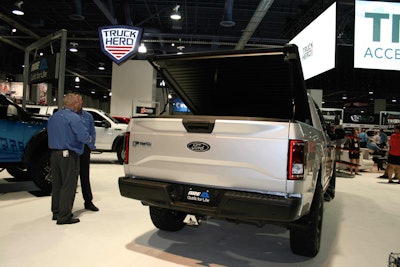 Roll or lift? It's your choice and A.R.E. makes it happen with its new DoubleCover bed lid, which was on display this week at SEMA inside the Las Vegas Convention Center.
Made of lightweight and strong black powder-coated aluminum, the lid can be opened like a traditional tonneau cover up to 35 degrees from the tailgate using a continuous hinge and lift assist arms with gas props.
Or, in the down position, the slats can be rolled back through a track in an aluminum frame that is secured to the top of the bedrail.
Fear not. The heavy duty slats of the DoubleCover lock in place across the top of the bed when the whole lid is lifted.
"It's the best of both worlds with the cover," said Todd Schroeder, distributed product category manager at A.R.E. who gave Hard Working Trucks a demo of the lid.
Bryan Mutchler, marketing manager at A.R.E., said the DoubleCover offers more options for pickup owners who might sometimes run into problems using a traditional tonneau cover.
"The versatility of the DoubleCover is its greatest feature," Mutchler explained. "This lid is ideal for pickup owners that want security, easy access to cargo and retractability in the event that something with height needs to be transported or when access to a fifth wheel or gooseneck is needed."
Lighter than a traditional fiberglass tonneau cover, the retractable section slides toward the front of the truck bed into an attached aluminum box for convenient storage and protection from cargo.  The patent-pending design can be locked at the handle to keep cargo secure while still allowing full access to the tailgate.
The DoubleCover, which can be painted to match a truck's finish, will be available in mid-2017 for all current model pickup trucks with long bed, short bed and extra short bed configurations. Schroeder said that the white nesting guides for the roll track, located in the front of the bed, will be black for the upcoming production models.