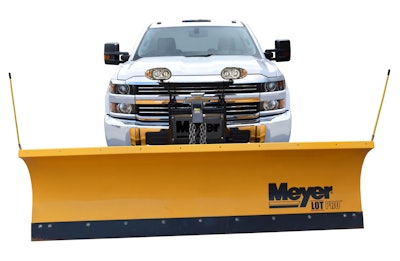 Meyer Products' new Standard Operating System is designed for greater snow removal efficiency.
With an industry-leading 9 inches of ground clearance for improved stacking and transport height, the plow system works with the new ultra-light, high-strength steel 6'8″ Drive Pro, 7.5′ – 9′ Lot Pro and Diamond Edge plows and is less prone to bottoming out.
The drop speed is adjustable and the dual-halogen Nite Saber III lights with a high beam indicator to ensure better visibility.
The Standard Operating System has a new lift frame and light bar for more rigidity and stability, plus a tubular steel A-frame for greater durability. An encased power unit and patented cable management system provides easy access when servicing the plow.
For more information, visit www.meyerproducts.com.