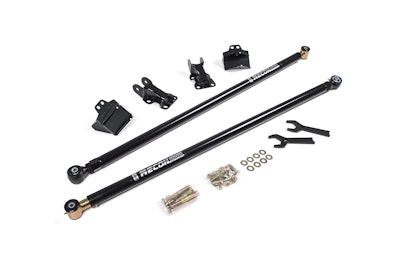 BDS Suspension has launched Recoil traction bar kits for 1988 to 2016 Chevrolet and GMC ½-ton trucks.
The spring loaded traction bar system is designed to improve traction on a variety of terrains without limiting wheel travel.
The traction bars use heavy wall construction with internal compression springs that can be loaded or unloaded while installed on the vehicle to control axle wrap.
The BDS bar system uses a full float design for bind free performance and can be installed with a range of lift heights. (See installation video below.)
The bars are fabricated from 2-inch OD x 3/16-inch wall steel tubing with a threaded bung welded in toward the axle and a CNC machined end at the frame.
Utilizing a forged housing with large 1-1/4-inch -12 threaded shank, a single sided snap ring and 1-piece flex ball, the flex ends are capable of up to 15-degrees of misalignment in either direction.
At the frame end the bar uses a durometer-specific polyurethane bushing and free floats in the traction bar utilizing a pair of dual stage internal compression springs and UHMW polyurethane bearings.
The main spring has a 3000-lb spring rate. Both ends are greaseable and serviceable. Fully assembled, Recoil traction bars are 60 inches long and mount to the vehicle using fabricated ¼-inch steel brackets.
Bracket kits are vehicle specific. The frame brackets install by drilling mounting holes for the brackets while the axle brackets install over the factory bolt plates. The traction bars and mounting brackets use a durable gloss black powdercoat finish.