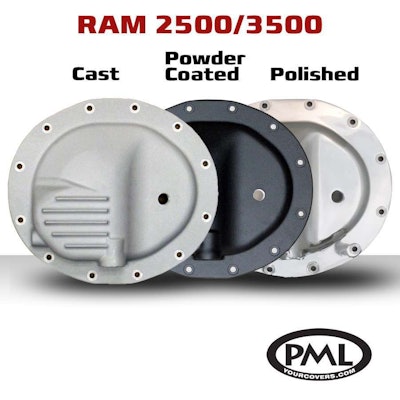 PML recently introduced its new bolt-on replacement front differential cover for 2014 and newer Dodge Ram 2500 and 2013 and newer Ram 3500 pickups.
The new covers were designed to fill a void left in aftermarket differential covers after Dodge chose to shift to a 12-bolt American axle 9.25-inch (235mm) front to improve gas mileage.
The new heavy duty PML cover is sand cast aluminum and because of reported clearance issues with steering, U-bolts and suspension, was manufactured with a low profile for clearance. Fins on the lower part of the differential, where the fluid collects, aid in heat dissipation and cooling.
"We recognized the demand for the new front cover after changes made by Dodge and we're happy to accommodate the Ram owners who, until this point, have had limited options for aftermarket differential covers," said PMP President David Tolin.
To take a closer look at PML's new 12-bolt differential cover for Dodge Ram 2500 and 3500 visit https://yourcovers.com//diffcover_11136.php.
PML designs and manufactures specialty automotive products, including differential covers, transmission pans, valve covers and other products.
The company began in 1986 as an engineering and inspection company offering clients high quality products through the use of production visualization and virtual and rapid prototyping. In 2000 company owners made the decision to focus solely on automotive products and launched www.yourcovers.com.