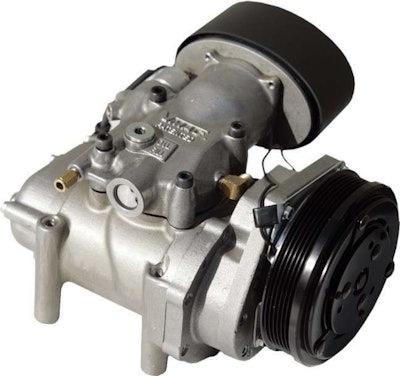 VMAC announced today the launch of its latest Underhood150 rotary screw air compressor system designed for Ford F-650 and F-750 6.8-liter Triton V10 gas engine work trucks.
The announcement marks VMAC's fourth product launch this year after the VMAC Raptair-G30 gas drive, the DTM70 PTO drive air compressor and the VMAC Underhood-Lite air compressor system, all rotary screw air compressors.
"Continually developing and expanding our product lines to meet our customers growing needs is what positions VMAC as the global leader in advanced mobile compressed air systems," says Gordon Duval, VMAC vice president of marketing and sales.
"The addition of the Ford F-650 and F-750 expands our Underhood product range to now include the top range of Ford's medium duty F-Series truck."
VMAC's Underhood system provides 100 percent duty cycle and up to 150 CFM and 175 psi and is designed to work in extreme climate conditions. The mounting kit, designed for easy installation, is engineered to fit the Ford F-650 and F-750 engine and chassis taking only a few hours to install.
"VMAC's Underhood line of air compressors offer significant advantages in that they are much more compact and lightweight than typical mobile air compressors," Duval states. "There is no installed deck footprint compared to up to 76 cubic feet of typical deck mounted compressors, which provides our customers with more free deck space.
"The system weighs in at a mere 200 pounds, substantially lighter than a typical utility mount system of 1,900 pounds (861 kg), and according to the Environmental Protection Agency fuel savings of up to 2 percent per 100 pounds can be achieved by reducing the GVWR.
"We're very proud of this product announcement. It underscores our commitment to exceeding our customers' expectations by continually evolving our advanced air solutions to help them reduce expenses, improve productivity and grow their bottom line."