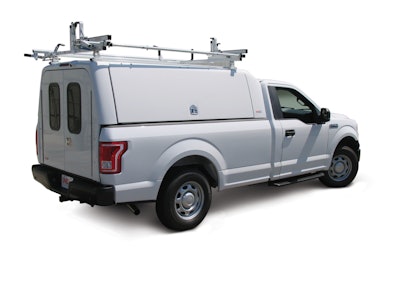 SnugTop announced the launched of its SnugPro Capsule, a lightweight composite commercial topper.
Thanks to its one-piece advanced structural composite construction, the SnugPro Capsule weighs in at only 475 pounds, making it the lightest capsule in the industry. Aerodynamic styling enhances factory lines and contributes to overall fuel economy.
"The SnugPro Capsule features an industry-first 'drop in' design that snugly fits over the OEM wheel well and provides maximum interior room, as well as unparalleled mounting security," a SnugTop representative said.
The SnugPro Capsule is specifically designed for each make and model truck and painted to match the color and gloss of the vehicle using the Axalta ChromaPremier process, preventing surface oxidation commonly occurring with a gelcoat finish.
A built-in LED brake light and optional rear-view camera add to its style and functionality.
Designed for long-term durability, the SnugPro Capsule is reinforced to provide a hefty 500 lb. roof carrying capacity and compliment a wide assortment of ladder and other racks. Other features include full-length heavy-duty door hinges, stainless steel T-handles and 3-point locking.
Multiple door and shelving options enable businesses to tailor the SnugPro Capsule to their specific needs. The use of J-hooks allow the unit to be installed without any drilling, and also facilitates easy transfers in the years to come.
For additional information go to www.snugtopcommercial.com or call the factory at 562-432-5454.