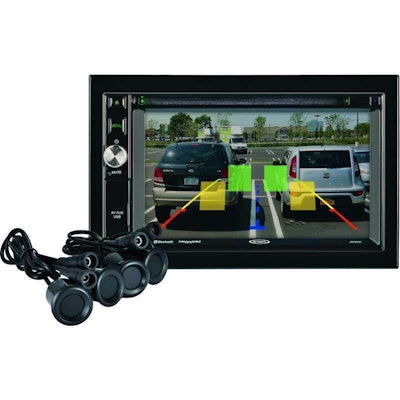 ASA Electronics recently introduced the new Voyager CVRPS14 Rear Sensor System.
It's comprised of four separate rear sensors spaced evenly along the back of a vehicle.
When attached to a compatible display, sensors provide two types of notifications when an object is detected. An audible warning progressively beeps as objects approach the vehicle. The visual indicator and real-time video can be displayed on any attached Voyager monitor or Jensen touchscreen stereo with camera input.
"Customers love the fact that the sensor system is fully integrated into the Voyager camera system,"said Pat McCullough, vice-president of sales for ASA Electronics. "The sensor system utilizes the same cabling that the standard Voyager systems uses which displays the OSD and audible alert on the Voyager monitor."
Sensors operate independently, giving off four distinct, constant signals to alert the driver of objects currently behind the vehicle or moving toward or across the rear.
"The color-coded signal warning zones, along with the actual camera image, show the driver just how far away an object is," said Joe Camacho, CV division accounts manager for ASA Electronics. "And when combined with the audible beeps, it allows a driver to back into a location with complete confidence."
Learn more details by visiting jensenheavyduty.com.