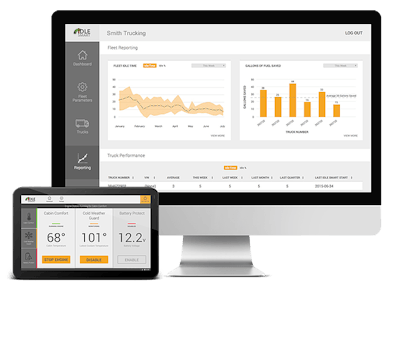 Idle Smart has authorized Fontaine Modification Fleet Services to install and distribute its Idle Smart idle management system.
Idle Smart is an automatic engine start and stop technology that actively manages engine idle time and battery voltage levels while helping to prevent cold starts in Class 8 trucks.  The system reduces idling time, helping ensure compliance with idle restriction laws and potentially saving fleets thousands of dollars per truck annually.
Idle Smart also provides remote management capabilities and delivers performance-reporting and vehicle diagnostics, enabling fleets of all sizes to operate more efficiently.
 "Reducing truck idling and lowering fuel costs while continuing to provide a comfortable environment for off-duty drivers has been a challenge for many trucking companies," says Jamil Young, president, Fontaine Modification Fleet Services.  "Idle Smart provides an innovative and dependable solution. We are happy to offer installation of this quality fuel-saving system at any of our seven nationwide modification centers."
With Idle Smart, drivers no longer need to idle their vehicles to keep their truck batteries charged, or their cabs and their coolant warm. Idle Smart provides fleets managers remote management capabilities to continuously monitor a truck's batteries and program a voltage threshold from their desktop or in the vehicle.
The app automatically starts the truck when the battery voltage gets low, charges it back up, and then shuts it down again. For safety, the engine won't start if the truck isn't in neutral, doesn't have its parking brake on, or has its hood open.
Fleets and drivers can also monitor cabin comfort and coolant temperatures, and Idle Smart will start the trucks at a specified temperature and run them until the desired cab or engine coolant temperature is reached.
Idle Smart's real-time performance metrics and diagnostic capabilities show truck- and fleet-level operational results. The remote management function allows fleet managers to be more proactive in day-to-day operations and easily make necessary changes to any system setting, whether they be truck-specific or fleet-wide, to ensure optimal performance.
"We are excited to be working with Fontaine Modification, given the company's long history of innovation and excellence," says Jeff Lynch, president of Idle Smart. "Fontaine is the proven leader in efficiency and workmanship, which allows for a seamless experience for our mutual customers."