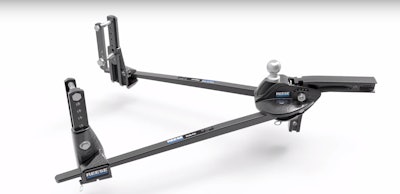 Cequent Performance Products announced today the availability of its new heavy duty Steadi-Flex Sway Control and Weight Distribution Hitch.
This new Steadi-Flex system is the latest in the Reese line, offering features and benefits from its tapered spring bars and cast components, to automotive-style friction material.
"The design and functionality of the Steadi-Flex are features we have been working on for some time now," said Tom Stalder, senior product manager. "It's important to us to provide top-quality products. After all, it's what Reese is known for."
The heavy duty Steadi-Flex system has wide spring bars and a simple pin and clip assembly to reduce wear in the head and on the friction pads. The no-drill installation is designed for quick towing hook-ups.
"We are very excited to release the new Steadi-Flex line into the marketplace because it's not just something people want when they tow, it's something they need," said John Walsh, vice president of sales and marketing. "Sway is nothing to joke about. When your family's safety is on the line, Reese is the name you trust. It's that simple."
Steadi-Flex is available in 1,000/10,000, 1,200/12,000, and 1,400/14,000 lbs. tongue weight/gross trailer weight and comes with a limited lifetime warranty.
[youtube https://www.youtube.com/watch?v=_EwqgLcjHf4]