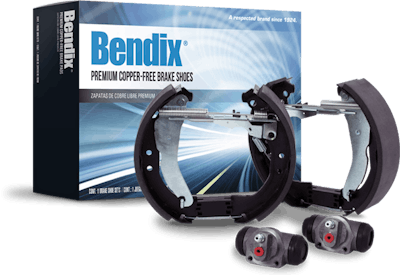 MAT Holdings has launched Bendix Brakes complete brake shoe kits, which are designed to drastically reduce installation time by including all of the components necessary for a complete brake shoe job.
Bendix complete brake shoe kits include the brake shoes themselves, plus wheel cylinders, spreader springs, and installation hardware.
"As a result, installation time is cut by up to 50 percent, and shop owners can also save a great deal of time otherwise spent sourcing the various different components," a Bendix spokesperson said.
"Installers can offer their customers greater peace of mind with the Bendix brake shoe kits: all relevant components are replaced during the brake shoe job, so the likelihood of an old component breaking and causing the customer to return to the service shop is reduced."
The Bendix brake shoe kits also require less storage space, since a number of products normally stocked separately are stocked in a single box.
The brake shoe kits are offered as part of the Bendix Premium line, which also includes automotive brake pads, discs, and shoes.