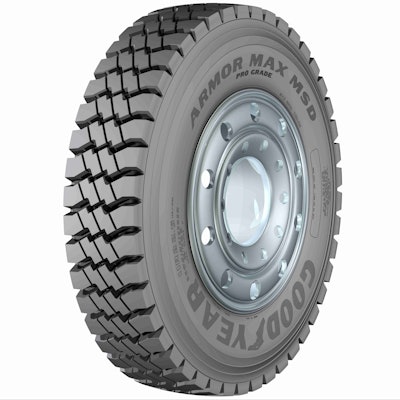 Goodyear reports that its new Armor Max Pro Grade MSD tire is designed for hardworking construction, cement, dump and coal field trucks.
"Part of the Goodyear Total Solution for fleets, the Goodyear Armor Max Pro Grade MSD builds on the toughness of the popular Goodyear G177, while providing enhanced traction, miles to removal and retread ability," says Evan Perrow, Goodyear's marketing manager.
"This fuel-efficient tire also achieves Greenhouse Gas (GHG) compliance, enabling it to meet increasingly stringent environmental requirements. And it is available with Goodyear's exclusive DuraSeal Technology, which instantly seals nail-hole punctures of up to ¼-inch in diameter in the repairable area of its tread."
Goodyear is the only truck tire manufacturer that offers a built-in tire sealant, which is intended to keep trucks running and reduce downtime.
Goodyear reports that the Armor Max Pro Grade MSD also features a premium-quality casing for enhanced retreadability. Other features include:
A rugged tread design for excellent on- and off-road traction
A tough tread compound to help resist chipping and chunking
A special mixed-service undertread compound for enhanced casing toughness
A cool-running base compound to help provide long tread life and lower rolling resistance
Currently, the Goodyear Armor Max Pro Grade MSD is available in the following sizes: 11R22.5, 11R24.5 and 12R22.5, all Load Range H.
"Goodyear's Total Solution is designed to help hardworking fleets lower their operating costs," said Perrow. "We believe the new Goodyear Armor Max Pro Grade MSD will contribute to the achievement of this critical objective in a big way."