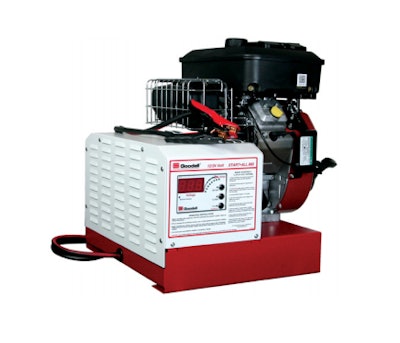 Goodall Mfg. recently launched its latest-generation Start-All commercial-grade jump starter.
The new Start-All with Active Sensor Technology (AST) builds on the company's 60-plus years of proven performance and durability of the Start-All line-up with significant new features. These new features include the Start-All AST's ability to automatically prevent power from being deployed when a user mistakenly selects the wrong voltage, attempts to power up the jump-starter when the clamps are not connected properly or when the unit is connected in reverse polarity.
The new model also carries over the many benefits from previous models. Most notably, the reverse current shutdown protection circuit saves time and money.
"The new Start-All with Active Sensor Technology (AST) also provides an enhanced user interface with Digital Touch Controls that simplifies the use of the jump-starter. Its intuitive operation better informs technicians of the Start All's status with easy to read amp and volt indicators that are legible in all lighting conditions," says Dave Groeneweg, Goodall's engineering manager.
"In addition to amp and volt readings the Digital Touch Control also features a fault light which illuminates when the unit runs out of gas, as well as a reverse polarity light when the clamps are connected incorrectly," explains Goodall Product Manager Scott Anderson.
"This light quickly tells the technician why the unit shut down, thus saving the time that was previously spent diagnosing the cause of the shut-down. Of particular significance is the soft on/soft off functionality of the AST.
"Having the soft on/soft off feature eliminates the toggle switch and with that the maintenance/replacement of parts that go along with it. And, with the push-button start there's less arcing which leads to less wear and tear on the solenoids, thus saving money on replacing parts and reducing unit downtime."
SPECIFICATIONS: Dimensions: 28"W x 23"D x26"H. Weight: 365 lbs. Output: 12/24 volt Amps: 700/400. Engine: Electric start, air cooled Briggs & Stratton Vanguard OHV gasoline engine with 2-gallon fuel tank. Cables: 30 ft., 1/0 ga. welding cable. Clamps: 1000 amp full-power clamps.