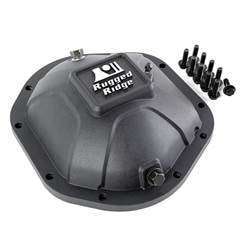 Rugged Ridge has released new line of Boulder Aluminum Differential Covers for Dana 44 and 30 axles, designed to help protect internal components from damage caused by contact with rocks and other terrain off-road as well as aid in dissipating heat from differentials.
Chris Van Buren, engineering manager at Omix-ADA, says most stock differential covers are a thin plate of steel, which trap in heat and can dent and leak after coming in contact with an obstacle.
"Our aluminum covers are engineered to be a rugged, stylish replacement to handle tough trail conditions," he adds.
The new matte black Rugged Ridge Boulder Aluminum Differential Covers are constructed from A356-T6 cast aluminum for strong impact resistance and feature a precision machined sealing surface, allowing gaskets or RTV sealant to be used for a leak-free seal.
Rugged Ridge Boulder Aluminum Differential Covers come complete with a magnetic drain plug and a specially designed dipstick bolt.