BrandMotion, which makes an array of automotive safety and convenience tech, was eager to talk about its 360° Vision System for pickups, vans and Jeeps at the 2015 Specialty Equipment Market Association (SEMA) Show Monday.
Though Ford is now offering this feature, also known as Bird's Eye View, as a factory option on its newest F-Series trucks, BrandMotion's 360° System has the advantage of allowing Ford owners to implement the technology à la carte on the pickup and trim of their choice rather than spending a lot of extra money on an F-Series package that offers the feature.
Scot Clemons, BrandMotion's marketing coordinator, said the system, which runs at around $1,000, can save customers upwards of a few thousand dollars or more. The system is particularly attractive to fleet customers who want to order a very stripped-down pickup and add only the technology they know they'll need.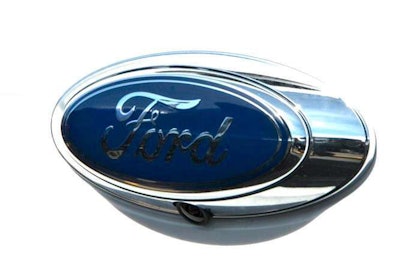 In addition to Ford vans and F-Series trucks, BrandMotion's 360° System is also available for Chevy, GMC and Ram trucks.
But BrandMotion's 360° System isn't just smart from an economic standpoint. The system doesn't just use its four cameras to stitch together the overhead view. It allows drivers to isolate its views from the side, rear and front cameras as well. You can even view multiple views at the same time on the center console display. BrandMotion provides displays or it can be installed into the factory console on your truck.
BrandMotion puts an emphasis on having these cameras blend into the truck body as well. Clemons says the company places its side cameras beneath the truck's side mirrors, with the front camera attaching to the truck's grill and the rear camera integrated into the tailgate handle. However, Clemons says the company also makes a version of its front and rear cameras that integrate into a Ford emblem, seen above.
A couple of other cool products BrandMotion has on display here at SEMA are its ADAS Plus collision avoidance system and its Wrangler Camera.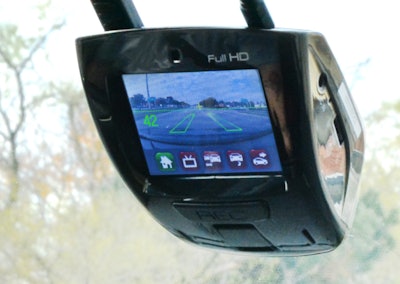 The ADAS ($800) installs to a vehicle's windshield and has a 2.4-inch screen through which it gives both visual and audible warnings for avoiding forward collisions and lane departure. But the system will also keep an eye on surroundings, alerting the driver when to resume driving while stuck in a traffic jam.
Plus, the system has a DVR which can record action in front of the vehicle. The DVR, which stores video onto a 32-GB SD card, can be manually or automatically activated and pairs its footage with GPS data. This feature could prove handy for fleet owners, especially those worried about accusations of unsafe driving.
Finally, the Wrangler camera ($300) integrates a rear-view camera into your Jeep Wrangler's rear tire mount. After removing the rear tire, the Wrangler camera is placed between the tire and the mount. The result is an improved view over bumper cameras available from the factory.
By Wayne Grayson