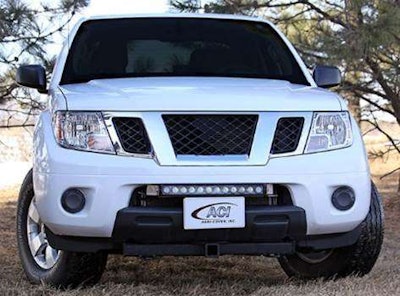 Agri-Cover Inc. (ACI) has introduced ACI Off-Road LED Lights for higher illumination.
The lights come in 18-, 24-, 42-, 90- and 120-watt models. The newest 21-inch ACI 120W LED Light Bar features a combo beam pattern with a total of 10,800 lumens. Ten LEDs in the center give a tight spot beam to light the path ahead while the outside LEDs have wide flood patterns to avoid tunnel vision.
Waterproof and shock resistant, ACI Off-Road LED Lights are constructed with die-cast aluminum housings and adjustable, stainless steel mounting brackets. The lights can be wired into any direct-current system from 10 to 30 volts and are rated for 30,000 hours of use. ACI also offers a License Plate Light Mount and an ACI Off-Road LED Light Wiring Kit for easy installation.