Air Lift has a new SmartAir II automatic self-leveling system designed to maintain optimum ride height on any road, under any load condition.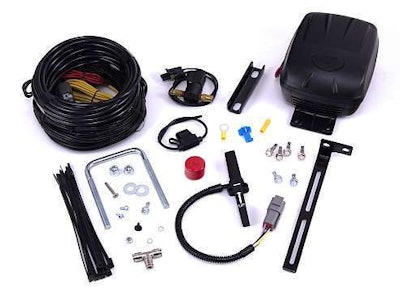 SmartAir II employs leveling sensors that accurately detect when the vehicle isn't level and automatically return the air springs to the desired ride height.
Engineered to provide true, automatic control, SmartAir II features a unique, non-contact height sensor, which maintains a level ride with no lines or controls in the cab. The system includes an improved, weather-resistant harness and durable components that meet OEM standards for quality and function.
The kit comes complete with a pre-assembled wiring harness, electronic sensor system, compressor and an illustrated instruction manual for easy installation. Two models are available: a single-path system, which allows two air springs to inflate simultaneously, or a dual-path system, which inflates left and right springs independently, depending on load.
SmartAir II is backed by a 60-day, no-questions-asked money-back guarantee and comes with a two-year warranty. Note: SmartAir II does not work with coil-sprung vehicles or Air Lift 1000TM adjustable air helper springs.