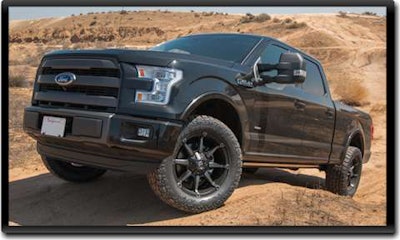 The "more powerful, capable & advanced" 2015 Ford F-150 is a great working man's pickup with a long heritage of being one of the toughest vehicles on the road.
With several changes making their way into production for 2015 including an all new aluminum body, ICON was eager to get this truck into R&D to see what improvements could be made to the stock suspension of both 2WD and 4×4 models.
ICON engineers spent a significant amount of time developing a new shock valving that addressed the "slimmer" truck's ride characteristics.
This research and development process yielded a collection of products including coilovers, rear shocks, and tubular steel upper control arms that have been organized into five staged suspension systems that offer unique levels of performance for the new Ford.
ICON's 2015 F-150 suspension systems increase wheel travel by 12.5% over stock while drastically improving on and off-road ride quality.
A remarkable level of performance is established with the Stage 1 system, which includes vehicle-specific tuned 2.5 Series coilover shocks and ICON 2.0 Aluminum Series monotube rear shocks that are both 100% rebuildable and revalvable.
As the stages increase, the ability of the vehicle to handle exceptionally well in harsh off-road conditions is also increased with the addition of remote reservoir coilovers, 2.5 Series rear shocks, uniball upper control arms, and CDCV (Compression Damping Control Valve) technology.
An adjustable coilover design offers up to 3" of lift height on both 2WD and 4WD F-150s, allowing for the fitment of larger, more aggressive wheel and tire combinations.
A 100% bolt-on design makes for a simplified and straightforward install while allowing for the ability for the vehicle to be returned to stock form if need be.
KEY FEATURES
12.5 % increased wheel travel over stock with no change in towing capacity
Unique valving developed specifically for the lighter weight of the 2015 F-150
Vehicle-specific tuned front and rear shocks provide superior damping and ride control
Eibach coil springs guaranteed for life against sagging or breakage
FK Rod End bearings for extended longevity and minimal deflection
Height-adjustable coilovers offer up to 3″ of lift height
Remote reservoir option with CDCV adjuster available
Uniball control arms provide added strength, durability, and improved alignment characteristics
100% bolt-on system makes for a simplified and straightforward install
Made in the USA
CONTACT: ICON Vehicle Dynamics; 951-689-ICON