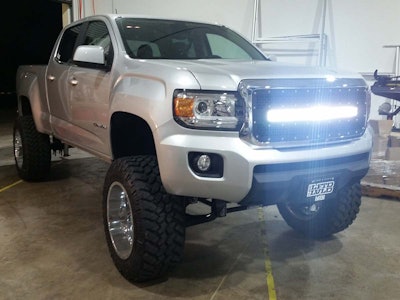 If you drive your new GMC Canyon a lot at night over backroads that are dark and twisty, or in off-road conditions, supplementing headlights with an additional light source can be a big sfatey upgrade.
LED Grilles by Rigid Industries provides just that. Rigid's new 2015 GMC Canyon Grille features an RDS-Series 30'' – Hybrid Spot Optics LED Light Bar and includes a novelty Rigid Industries Grille Emblem.
This 2-piece grille is made from laser-cut 304 stainless steel and is assembled using stainless steel button socket head bolts and nyloc nuts – no welds.
It features a high quality black powder-coat finish. Installation requires modification to your OEM grille shell.
We recommend professional installation but all hardware and instructions are provided within the kit for the DIYer.
CONTACT: Rigid LED Lighting; 855-760-5337