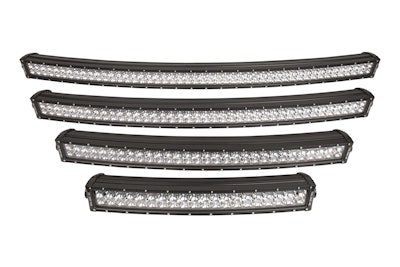 Trail-Gear's TG Curved LED Light Bars are versatile and can be mounted on any vehicle ranging from trucks and cars, UTVs to heavy equipment.
These lights are powerful enough to light up the darkest road, trail or worksite, and durable enough to withstand the most demanding of conditions for years.
The curved design of the TG Curved LED Light Bar helps to spread out the light to give a wider light spread than standard light bars.
The TG Curved LED Light Bars have a combo flood and spot optics with 3W Cree LEDs with a color temp of 6500K (cool white).
The lens on the TG Curved LED Light Bars is made out of shatter-resistant polycarbonate material to prevent any damage to the optics. The housing is made out of extruded aluminum for superior strength.
The brackets can mount to both tubes and flat surfaces, with rubber anti-vibration isolators provided to prevent damage to the mounting surface.
Each curved LED light bar include a 15" wiring pigtail (2x 18-gage wire with outer jacket). The input voltage on the LED light bar is 10-30VDC.
Trail Gear's Curved LED Light Bars are IP67 Rated.
Below are the specs of our TG Curved LED Light Bars:
| | | | | | |
| --- | --- | --- | --- | --- | --- |
| Part Number | Description | Wattage | Current Draw | Initial Lumens | # of LEDs |
| 303419 | TG Curved LED Light Bar, 20″ | 120 Watts | 10 Amps | 9600 Lumens | 40 |
| 303420 | TG Curved LED Light Bar, 30″ | 180 Watts | 15 Amps | 14400 Lumens | 60 |
| 303421 | TG Curved LED Light Bar, 40″ | 240 Watts | 20 Amps | 19200 Lumens | 80 |
| 303422 | TG Curved LED Light Bar, 50″ | 288 Watts | 24 Amps | 23040 Lumens | 96 |