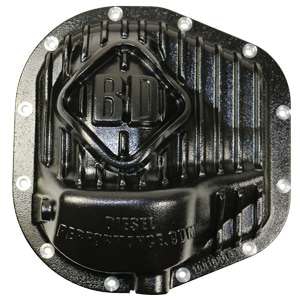 BD Diesel Performance's Cast to Cool Differential Covers are engineered to keep oil on the gears unlike other designs that allow oil to be flung on the inner surfaces, falling back down into the sump. 
The extra capacity bulbous sump almost doubles the fluid capacity and internal and external fins add extra cooling.  The gasketless cover has an integral re-usable Viton O-Ring.
Each BD cover comes with stainless steel Allen head cap bolts, magnetic drain, and fill plug on Dodge/Chevy applications.
Contact: BD Diesel Performance; 800-887-5030