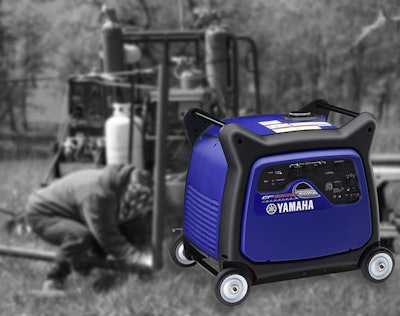 Whether you need a portable generator to provide 120V/240V out of the bed of your work truck, utility vehicle, or sitting at a remote jobsite, Yamaha's Inverter EF6300iSDE can easily handle the load.
This electric start, 5,500-watt continuous-output genset is a great companion for portable stick and MIG welders.
It can also safely provide electric power to just about any other piece of equipment in the field, at the shop, or wherever else it's needed.
The dual-voltage EF6300iSDE utilizes the latest in inverter technology, so its clean power supply is safe for even the most sensitive electrical components, appliances and variable-speed tools.
Noise Block keeps operating noise levels between 58-64 decibels. Rated amperage is 45.8 @120v and 26.3 @220v, with a 4.5-gallon fuel tank for 13.3 hours of operation under 1/4-load.
Yamaha's newest genset has numerous safety features including low-oil shutoff and smart throttle, along with wireless start/stop, fuel gauge and hour meter. It weighs just 200 pounds and is easily moved using its built-in wheels and dual-crossbar handles.