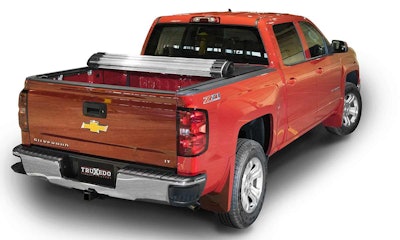 TruXedo, Inc., manufacturer of the TruXedo Lo Pro tonneau cover, has added another slick rolling bed cover to the line: Titanium.
This premium hard rolling tonneau cover offers the full bed access that TruXedo soft rolling covers are known for.
Its aluminum slats are bonded to UV resistant, industrial grade leather-grain vinyl to create a unique cover that combines superior strength with TruXedo's signature low-profile look.
Titanium rolls up and can be secured safely at the front of the truck bed, leaving the bed wide open.
While closed, this cover offers superior durability, security and protection.
CONTACT: TruXedo; 877-878-9336