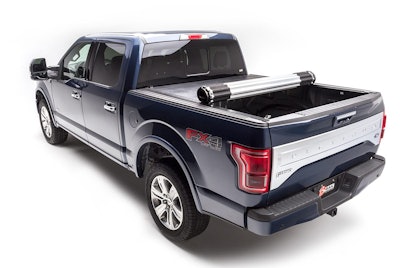 If you want to keep the contents of a pickup bed protected and to improve fuel economy, there's no better way than using BAK's Revolver X2 – an all-new and improved aluminum hard rolling tonneau cover.
It offers tough security, ingenious mechanical locking rails, a flush low profile design, and simple one-handed operation.
The Revolver X2's unique "no profile" design ensures lower coefficient wind drag resulting in better fuel economy, and renders a clean aesthetically rich look.
The cover is designed to withstand over 400 pounds of evenly distributed weight, and the Tuff-BAK vinyl lining makes it resistant to dents, scratches and wear.
Revolver X2 allows for 100% truck bed access, locks securely with the truck's tailgate, and is backed by an extended 3-year warranty.