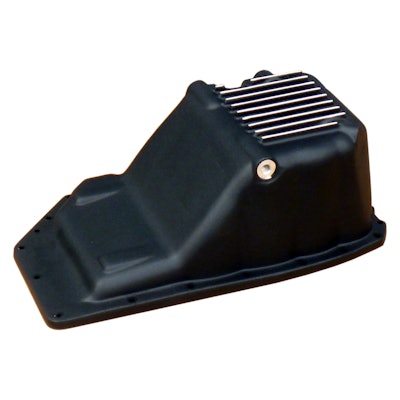 Owners of heavy-duty Silverados and Sierras that do a lot of towing may find changing out the tranny oil pan with this cast-aluminum version from PML is a good way to ensure lower transmission fluid temperatures while increasing the transmission life expectancy.
The new pan is also a good way to add more protection from damage when driving off-pavement.
The PML 6L90 transmission pan features heavy duty thick walls to add strength to the transmission housing. The pan features sand-cast aluminum construction, raised fins, and extra capacity to aid in cooling the transmission fluid.
PML designed the pan as a bolt-on replacement for the stock pan on gas-powered Chevy and GMC 2500HD and 3500HD trucks, vans and SUVs with the 6L90.
PML includes a magnetic drain plug and mounting bolts for ease of installation.
Contact: https://yourcovers.com/; 310-671-4345.