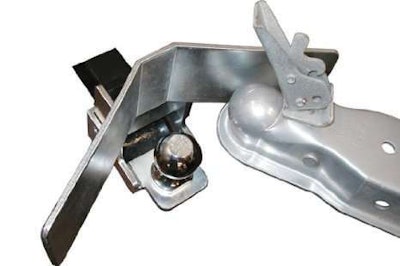 All too often hooking up a trailer requires getting in and out of the tow vehicle several times before the tow ball is under the tongue, even with the aid of a rear-view camera.
DuraSafe's Coupler Connect makes that process a fast, one-try connection.
The Coupler Connect guides the trailer tongue coupler right over the hitch ball without a line of sight or light, while also preventing damage to the tow vehicle.
A unique mounting bracket (fits standard 1-inch diameter ball shanks) accommodates a wide range of couplers and ball mounts and allows for maximum vehicle turning radius.
A demonstration video illustrates the typical issues with trailer coupling and how Coupler Connect® eliminates them.
For more information about DuraSafe products, please visit www.durasafelocks.com; 866-544-5615.