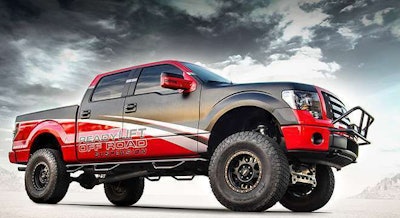 A revolution in truck suspension lifts has arrived with the new 7″ ReadyLIFT Off Road MLS Suspension for 2015 Ford F150 4WD trucks, allowing them to run up to 37″ tires for maximum ground clearance while being FMVSS 126 compliant.
The Complete kit features precision designed laser cut and CNC formed sub-frame assemblies with strategically placed windows in the cross members to drop weight but retain structural integrity.
This no-weld, bolt-on MLS Suspension allows the use of the factory wheels and factory spare. It also retains the full factory steering cycle and the factory suspension geometry during suspension cycling.
This kit also included integrated differential drops with torsion bracing to keep the differential from twisting under load,  and the design keeps the front CV axles and front pinion in proper alignment which is critical during 4wd use.
This ReadLIFT kit can be professionally installed in 6-8 hours.
It comes with a limited lifetime warranty as well as qualifies for the Ready-Guard 5-year/60,000 Mile PowerTrain Warranty.
Contact: www.readylift.com; 877-759-9991, or email sales@readylift.com