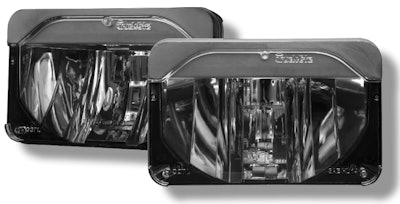 Rectangular 4×6 LED headlights are now part of Truck-Lite's latest advancement in the LED forward lighting market- a drop-in replacement for 1A1 and 2A1 sealed beams in most applications.
This advanced lighting system is the follow up to the widely popular 7-inch round and 5×7-inch headlights, which currently stand as the best and lowest cost systems in the market.
Truck-Lite expects this new headlight system to be met with the same enthusiasm.
Made possible by developments in new technology, the new system will offer the industry's best beam pattern, with improved width and longer reach. The new, high-performance design will couple superior performance with an extremely lightweight build.
With the release of the new system, Truck-Lite is bringing the benefits of LED lighting–longer life, better lumen maintenance, and improved color to a wide variety of new applications.
A multi-volt (9-33v) design ensures that the 4×6 LED headlight system works with any vehicle that utilizes industry standard 4×6-inch cutouts, from buses and medium duty trucks, to classic cars and off-road vehicles.
When properly mounted, the headlights exceed FMVSS-108 and CMVSS-108 DOT requirements for both low and high beam performance.