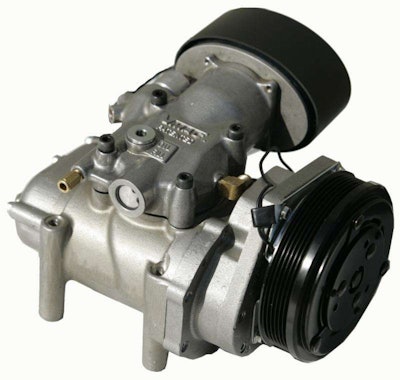 VMAC's redesigned Underhood air compressor system for the Ford 6.7L Power Stroke diesel engine is now easier than ever to install and service.
The new V900130 kit, which replaces the V900120 kit, and has a quicker install time achieved by taking a new approach on installation, which allows mechanics to modify fewer parts.
It does this without sacrificing performance, still providing up to 70CFM at 100% duty cycle and up to 175PSI. The system weighs about 150lbs with oil and has no footprint on the trucks' body.
The V900130's throttle control adjusts engine speed automatically to match air demand and is equipped with VMAC's new slow ramp feature.
The slow ramp feature comes set up from the factory to optimize system air output, maximizing CFM, while reducing wear and tear on the engine during system start up.
Decreased installation times not only helps installers, but also end-users because it lowers the time and money required to complete the installation.
Improved access to the system will ensure the truck spends as little time in the shop for maintenance as possible and more time in service, making money.
CONTACT: sales@vmacair.com; 877-912-6605