Ail Lift kits provide additional control and load support for new Ford F150s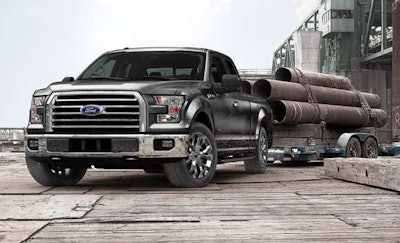 Air Lift Company offers three new towing solutions for the 2015 Ford F-150 half-ton pickup trucks: RideControl; LoadLifter 5000; and LoadLifter 5000 Ultimate.
All are high-quality air spring kits designed to improve ride, handling and safety when towing and hauling heavy loads.
To provide additional support for the towing needs of the new F-150 models, Air Lift engineered air suspension systems featuring application-specific brackets and air springs.
Air Lift adjustable air spring kits ensure that weight is properly distributed to all four tires to maximize vehicle stability, safety and comfort. Working with the existing suspension, air springs improve braking and steering, eliminate squat and sway and maintain ideal ride height.
For standard use, Air Lift's RideControl kit (2WD/4WD #59570) features fully-adjustable sleeve-style air springs which work with the existing leaf spring suspension to provide up to 2,000 pounds of load-leveling capacity.
For heavy-duty or more frequent use, Air Lift's LoadLifter 5000 kit (2WD #57268, 4WD #57284) works with the existing suspension to provide up to 5,000 pounds of leveling capacity and features durable, reinforced air springs and Air Lift's exclusive roll plates that help protect the air springs from sharp edges such as brackets or the vehicle's frame.
For even more ride support, Air Lift's LoadLifter 5000 Ultimate kit (2WD #88268, 4WD #88284) provides all the benefits of the LoadLifter 5000 with the addition of an exclusive, shock-absorbing internal jounce bumper to protect vehicles with heavy loads and eliminate jarring on rough roads.
Virtually maintenance-free, LoadLifter 5000 Ultimate is adjustable for a safe, comfortable ride, loaded or unloaded.
All three kits are easy to install and are backed by Air Lift's exclusive lifetime warranty.
For convenient air spring inflation and deflation from inside or outside the vehicle, Air Lift offers a variety of wireless and wired on-board air compressor systems.
To find a retailer in your area, visit Air Lift's dealer locator at www.airliftcompany.com/dealer.