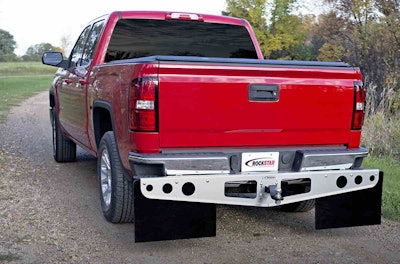 Campers, boats and trailers in general (not to mention their cargo) come with hefty price tags. So protecting them from flying road debris is important.
That's where Agri-Cover, Inc.'s 1/2-inch-thick ROCKSTAR Hitch Mounted Mud Flaps come into play.
In addition to the standard model, these mud flaps now come in three new sizes (XL, 2XL and 3XL) to fit all of today's pickups and full-size SUVs. They also come in custom sizes.
These new sizes let customers choose the protection level they want to fit midsize, full-size and dually pickups.
The aluminum frame, which uses the truck's receiver hitch as the mounting point, is made in several custom designs that fit popular truck models with a close contour fit.
The frame features a built-in stabilizer plate that keeps the ROCKSTAR™ Hitch Mounted Mud Flaps level with the truck's bumper.
It has convenient openings for access to pins and wiring for trailer lights and brakes, and makes it easy to remove the flaps and reattach them as needed.
CONTACT: rockstarmudflaps.com; 866-414-5422.